Since inception ANRA has been actively engaged with NASA and FAA and is one of the official collaborator on all UTM related programs. Our platform was built from ground up keeping safety and scalability in mind.
As part of this engagement with NASA, ANRA successfully demonstrated how any number of UAS service providers (USS) like ANRA can act as intermediaries between commercial operators and the FAA, air navigation service providers (ANSP) or the military and police forces—to provide critical information to the FAA regarding UAS operations and receive information back from the FAA or ANSP when required.
Along with interfacing with the FAA, ANRA USS Platform can manage traffic for operators, taking requests (or flight plans) and resolving conflict issues between operators before departure, as well as providing operators with terrain, weather, and surveillance and performance information.
The December 2016 edition of Aviation Week and Space Technology featured ANRA DroneOSS™ Cloud Platform  and discusses Retooling Air Traffic Control (ATC) For Beyond-Visual-Line-Of-Sight Operations.
Airspace Management
For a safe flight it is important to be aware of external parameters and ANRA USS provides real-time airspace data to drone operators directly from the flight management software being used to operate the drone itself. This dynamic airspace data includes controlled airspace, airports, nearby air traffic, temporary flight restrictions, local weather, and more.
Notifications
ANRA USS also offers the ability to establish and manage airspace controls applicable to drones and their operators, and "out-of-band" issuance of no-fly zones (NOTAMs). The airspace management platform is granular enabling you to establish restrictions that only apply to certain classes of operator and/or drones.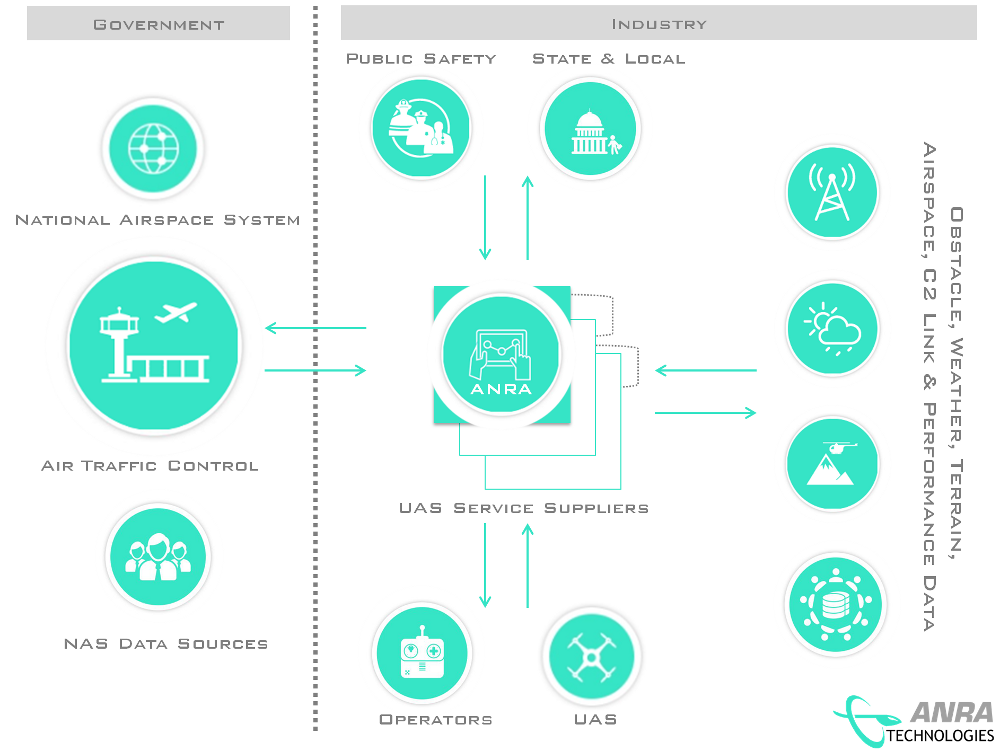 Contact us today
Fill out the application form and our specialist will contact you for a consultation.