ANRA and UAS Traffic Management (UTM)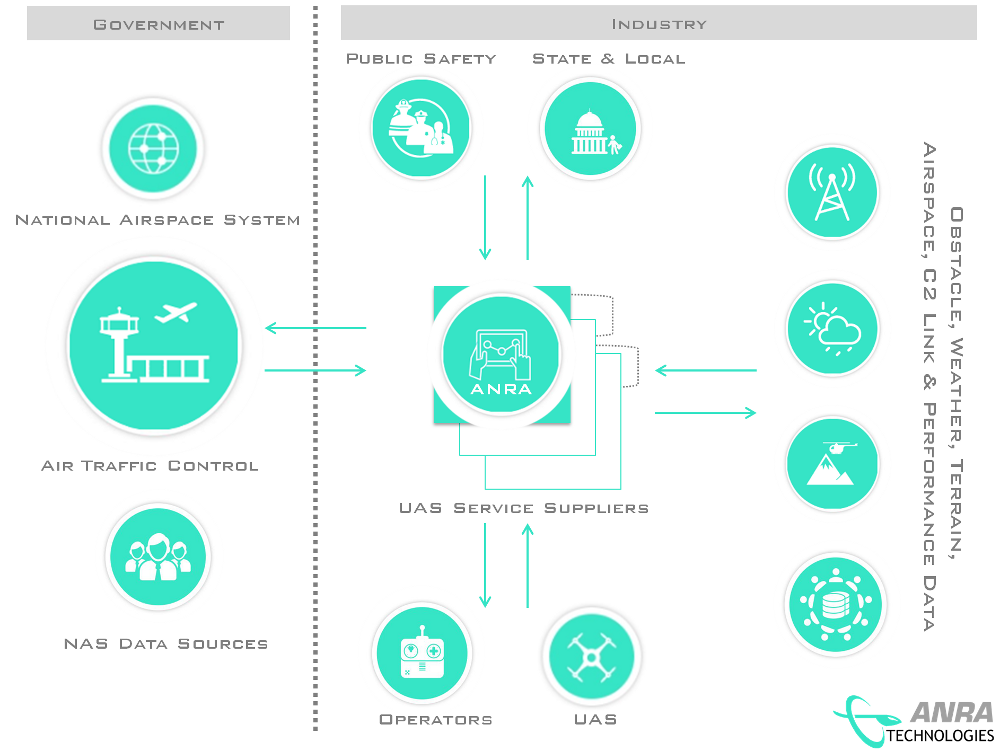 Over the past few months UTM or Unmanned Aircraft System Traffic Management has become a buzz word for the drone industry as the stake holders like FAA are getting on board with the commercial drone operations. This initiative was started by NASA Ames a few years ago under the leadership and guidance of Dr Parimal Kopardekar, better known as PK. The program primarily focuses on enabling civilian low-altitude airspace and UAS operations.
However, UTM is more than just a research project led by NASA. It is more of a paradigm shift on how the future of the NAS as well as the coexistence of manned and unmanned systems in the same airspace globally.
What is the problem?
We still do not have a recognized, standardized or approved system in place that will allow safe traffic management and control of the low-altitude airspace for commercial drone operations.
Similar to the manned air traffic control, which prevents collisions, organizes and manages the airflow of commercial and private flight through the controlled airspace, a UAS traffic management system (UTM) is required for drone flights and operations especially for low-altitude airspace.
Where are we with UTM currently?
The NASA UTM program is an alliance between NASA and various industry partners like ANRA Technologies. This program will eventually require the synergistic efforts of different stakeholders worldwide and an alliance between regulators, the private industry and academic institutions. ANRA is one such private partner that is working to create and coordinate the technologies to accommodate and realize the UTM vision.
What is the end Goal?
With the drone market expected to have exponential growth over the next few years and a large numbers of anticipated users, one of the key features would be to have a system that does not require constant human monitoring and surveillance and can still ensure the safety, security and control of the drones in the low-altitude airspace.
The system should be capable of providing the human stakeholders the data to make strategic decisions related to mission management whether it is launch, execution, and/or termination of airspace operations.  The procedures and interfaces also need to ensure that only authenticated and approved UAS can operate in the given airspace.
Ultimately, the goal of the UTM project would be to develop an independent, self-directed and scalable system that will manage and monitor the drones and their flights. This kind of system would factor in inputs from external sources such as obstacle, terrain, weather, airspace, C2 link and performance data and make this data available to all operators/service providers. In addition, the system also has to be capable of sending notifications to external stakeholders like public safety, state and local agencies.
What is happening currently?
As an active collaborator and participant in the NASA UTM project ANRA is collaborating with NASA/FAA as well as other industry partners in defining the next generation unmanned traffic management solution frameworks and technologies.
In November 2016, ANRA collaborated with 4 other companies and NASA as part of the first working group for NASA-FAA Research Transition (RTT). The RTT group is an initiative to develop and evaluate technologies and tools that could be used as a part of the UTM project.
As part of this capability demonstration, we successfully demonstrated how any number of UAS service providers (USS) like ANRA can act as intermediaries between commercial operators and the FAA, air navigation service providers (ANSP) or the military and police forces—to provide critical information to the FAA regarding UAS operations and receive information back from the FAA or ANSP when required.
Along with interfacing with the FAA, USS will manage traffic for operators, taking requests (or flight plans) and resolving conflict issues between operators before departure, as well as providing operators with terrain, weather, and surveillance and performance information.
The December 23rd edition of Aviation Week and Space Technology featured ANRA DroneOSS™ Cloud Platform  and discusses Retooling Air Traffic Control (ATC) For Beyond-Visual-Line-Of-Sight Operations.
What are the next steps?
2017 should see a lot more testing for UTM concepts with a bigger industry participation. We will see new and innovative technologies getting integrated be it around security, separation assurance or communication and navigation.
This should help lay out a blueprint for future of drone traffic management as well as the industry growth.