Beyond Working UTM: How Supplementary Services Could Benefit the Industry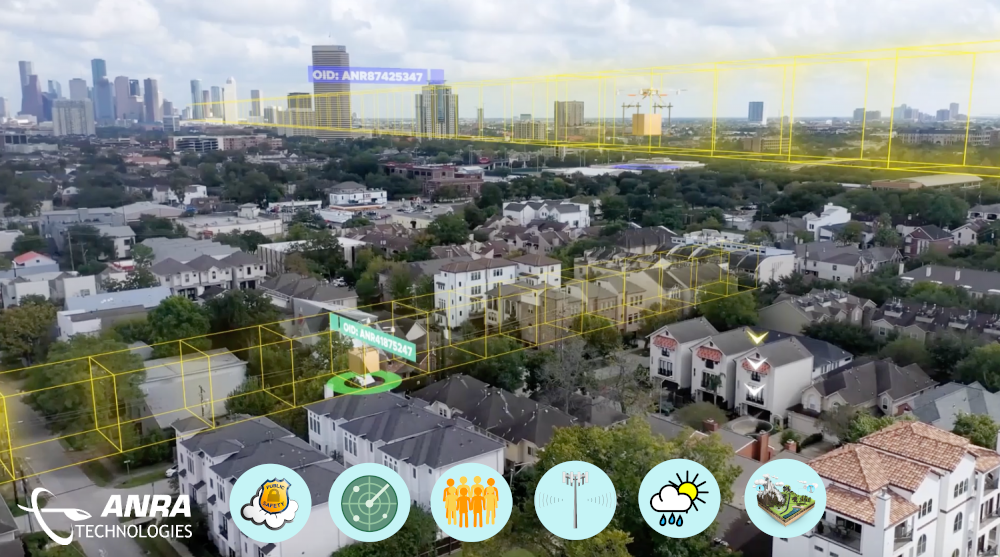 What's next for a Supplemental Data Service Provider?
There is an industry-wide consensus that Unmanned Traffic Management (UTM) will accelerate growth of the use of drones, for the sector to expand its commercial services and to realise a generational change in aviation. However, a functioning UTM does not mean that businesses will be attracted or that they will be willing to accept or pay for the services. To realise the full potential of UTM requires the industry to resolve a range of questions from safety of operations to the consideration of the end-user needs and questions on commercial acceptance of the technology.
UTM provides a means to overcome the technical problem of operating drones beyond visual line-of-sight (BVLOS) by means of a core of basic set of services supporting key requirements associated with Communication/Navigation/Surveillance (CNS), separation and collision avoidance. A regulatory framework will define a minimum or basic set of services which should be sufficient for BVLOS operations. However for routine, sustainable operations i.e. business as usual, end-users and operators will require individual or tailored services that cater to the environment, sector or geography for drone operations.
Supplementary services in UTM can be thought of as enhancing the core or regulated services to enable improvements in the service levels for UAS operations by providing additional information services to support a UTM actor to plan, validate and verify information, or inform a decision-making process.  Such support services will play an important role as these create new business opportunities, attract new and skilled entracts and support end-users who engage in the ecosystem but may lack deep expertise. The UTM ecosystem will encourage existing and new aviation and non-aviation businesses to create new solutions or evolve data solutions for the benefit of a range of industries adopting drones. These services are expected to be readily accessible by UTM service providers, though may also be accessible by UAS operators, Flight Information Management System (FIMS) or Common Information Service (CIS) providers. Examples of Supplemental Data Service Providers (SDSP) will include:
Weather services
Insurance services
Geographical information services (terrain and obstacle data)
Surveillance data
Aeronautical Information
SDSPs will play an important role in creating supplementary services by responding to market demand. This raises the question of what is the market demand as well as who is the end-user. There are multiple points of interactions across UTM architecture each of which can support multiple services.
USS – Operators: The USS and drone operator interact digitally throughout the lifecycle of a flight. This market element of UTM services will have to meet the needs of customers including provision of supplementary services to support the operators needs.
USS – FIMS/CIS: The USS engages with the FIMS/CIS to access a range of information in support of drone operations including facilitating engagements with other USS or Air Navigation Service Providers.
USS – SDSPs: USSss are expected to engage with SDSPs to improve their service offerings. This is expected to occur on an open-market basis, with the USSs free to work with relevant data and service providers to deliver better services to their customers.
USS – USS: These interactions are expected to form the bulk of the data-exchanges required to fulfil a range of tasks associated with drone operations. USS-USS engagements are expected to occur via a discovery service to determine USS contact information. Discovery services may be run by SDSPs.
USS– ATM: The USS shares operational data directly with ATM/airports via the Discovery service. USS may partner with airports to provide specific services for airport clients and repeat customers.
USS – Public Authorities: Local authorities and emergency services may partner with USS to create restriction zones or higher priority drone operations.
As UTM businesses determine and evolve their business strategies based around their views on viability and competitiveness, their service strategies will depend on the target markets, level of infrastructure maturity and importantly the customer needs. The last one is the most vexing of all to figure out as illustrated by the service perspectives in the table below. The industry can evidence learnings from early adopters of UTM technologies e.g. users of the FAA LAANC systems, Electronic Identification in Europe including the role out of Network Remote-ID in Switzerland.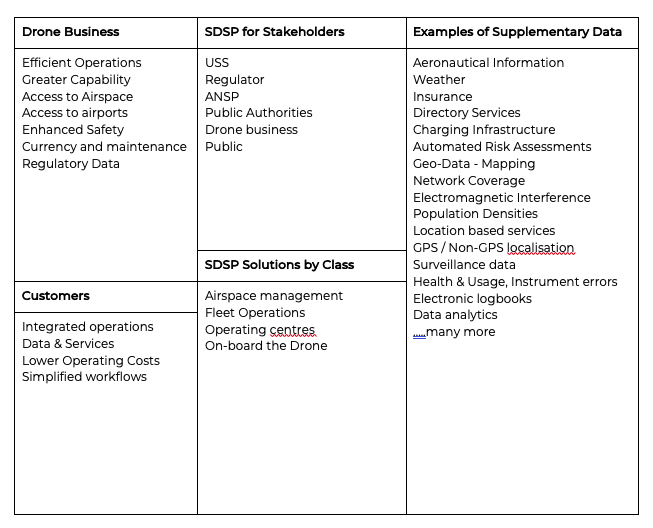 We do know that end-users will require this emerging industry to develop UTM into an engaging proposition of services that satisfy likely users. This can be challenging in aviation in which infrastructure developments are driven by safety first culture – after all this has led to aviation being one of the safest industries in the world. However, if the industry is to carry on investing in UTM, developers, business and users must have a say in its creation particularly on shaping the regulated aspects to ensure that the non-regulated and commercial services can be allowed to create additional value.