ANRA Technologies and Swiggy approved for BVLOS drone delivery operations in India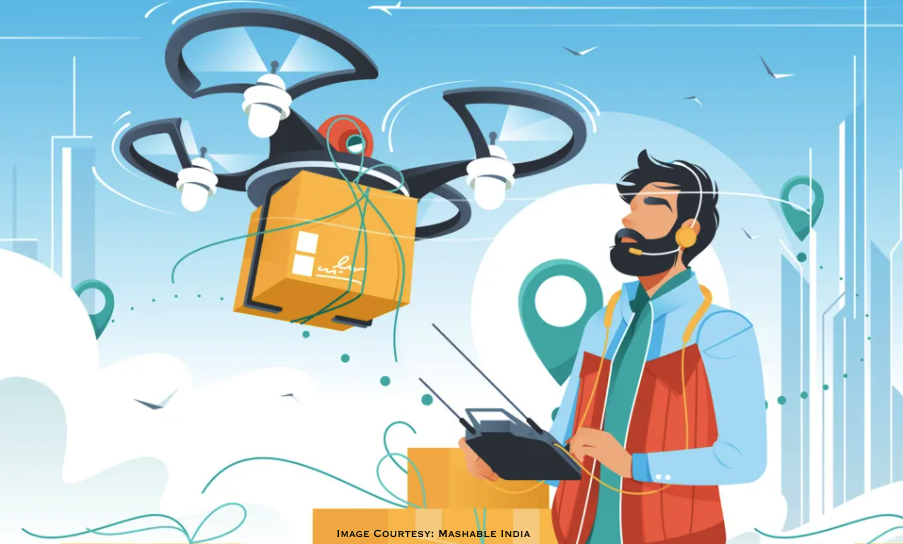 NEW DELHI, INDIA – ANRA Technologies, a leading provider of end-to-end drone operations and traffic management solutions, today announced that the Indian Ministry of Civil Aviation (MoCA) has granted exemptions to two consortia led by ANRA Technologies for beyond visual line of sight (BVLOS) drone operations in the country. ANRA Technologies, the only company to receive approvals for both its consortia, will initially focus on delivering food items in the cities of Ropar and Etah.
The ANRA-led consortium includes partners like Swiggy, one of India's largest online food delivery platforms. Also, the renowned Indian Institute of Technology, Ropar, as well as BetterDrones, a drone service provider, will collaborate in the endeavor. These BVLOS operations are scheduled to begin in mid-July, subject to easing of COVID-19 restrictions. India is looking at the operations as a way of fast-tracking its unmanned systems policy and preparing the local industry for a major push into the drone services segment globally.
"ANRA is honored to lead two consortia for BVLOS experimentation with partners that have commercial and humanitarian use cases to advance drone operations for India", said Amit Ganjoo, CEO at ANRA Technologies. "Our initial operations will focus on delivering consumable items on-demand to residents in and around IIT Campus in Ropar in partnership with Swiggy".
Swiggy customers can place on-demand orders for snacks, food items, beverages and other essentials using the Swiggy App powered by the ANRA™ family of UTM and drone delivery solutions. The solution allows for real-time flight tracking so customers know exactly when their delivery will arrive. Orders are immediately processed and delivered to the nearest launch site where the package is transferred to a drone and flown to a predetermined drop site within an eight square kilometer area. From there a Swiggy driver will make the final delivery by motorcycle to the customer's doorstep.
"It is by leveraging technology that Swiggy transformed the food delivery industry and made it a part of everyday urban life in India. As thought leaders in the space, we are constantly working towards pushing the envelope with technological innovations applied to deliver convenience at scale. ANRA's world-class domain expertise combined with Swiggy's deep market knowledge will enable the laying of groundwork for BVLOS operations for food delivery use cases. We believe that drone technology utilized to deliver consumer services will provide an unprecedented boost to the business while elevating the quality of life of urban consumers.", said Alok Jain, Entrepreneur in Residence, Swiggy
"IIT Ropar is proud to be associated with the initiative taken by the Ministry of Civil Aviation (MoCA), India, which has granted permission to operate drones for BVLOS operations in the country. IIT Ropar will partner with ANRA Technologies who are leading two consortia aimed at package delivery. The recent COVID 19 has shown that remote and unmanned delivery of essential items can not only be an usual business proposition but can be a life-saving endeavor aimed at restricting infections under such emergencies. IIT Ropar has already started efforts in this direction. I'm sure the present collaboration will bring out products and services of significant business and social impact", stated S K Das, Director, IIT Ropar"
"Betterdrones is excited about this upcoming opportunity, and we look forward to using our best endeavors to make sure that we will succeed in this challenge with flying colors", said Kanav Kumar, Business Head, Betterdrones
ANRA is honored to be a domain expert in supporting the development of India's nationwide operational UAS Traffic Management (UTM) platform called Digital Sky. This awareness of India's drone implementation efforts combined with being a global leader in UTM and Drone Operations Management capabilities, ANRA Technologies hopes to leverage its experience to:
Help define technology-agnostic protocols to support interaction and data exchange between suppliers of UTM services

Determine suitability and applicability of existing technology capabilities

Understand trade-offs between interoperability and open implementations and any specific technical integration requirements for functionality

Determine acceptable performance envelopes for latency, reliability, availability times and 'near real-time' aspects of communications

Establish how other key emerging standards, particularly Remote-ID and Detect and Avoid (DAA) standards, may be integrated as part of an overall Digital Sky UTM approach
All these BVLOS operations will be enabled by ANRA ANRA™ CTR and ANRA™ Delivery platforms. A coordinated, scalable, and highly adaptable family of software services, ANRATM provides execution and management of drone operations in controlled and uncontrolled airspace, ensuring the safety of the National Airspace and seamless integration into the legacy ATC systems.
Additionally, ANRA has designed an innovative feature for secure two-way text communication between drone pilots and airport towers. Only authorized tower personnel will be able to communicate with drone pilots using ANRA™ technology, helping to improve coordination during emergencies.
The ANRA platform is designed to be flexible so it can evolve as the trade space changes and matures, allowing regulators to maintain its authority over the airspace while permitting industry to manage operations in areas authorized for UAS flight.
About ANRA Technologies
ANRA Technologies, Inc. is a leading international provider of end-to-end drone operations and traffic management solutions for unmanned aircraft systems (UAS) operators and airspace managers. ANRA offers highly sophisticated capabilities as part of the ANRATM family for commercial UAS operations. The platforms have been rigorously tested and vetted by the world's foremost government aviation authorities and are operational today in multiple locations worldwide. ANRA participates in numerous standards development organizations, including Co-chair for ASTM International Committee F38 (UAS) for UTM and Remote ID, ANSI UAS Steering Committee, ISO Technical Committee 20/SC16 for UAS Standards, and ICAO Trust Framework Study Group. ANRA is also committed to furthering industry support for UTM as a national board member of the Association of Unmanned Vehicle Systems International (AUVSI).  ANRA CEO Amit Ganjoo is a Global UTM Association (GUTMA) board member and member of FAA's Drone Advisory Committee working group for UTM. ANRA Technologies, Inc. is headquartered in Washington DC with regional offices in London and New Delhi. Learn more by visiting www.flyanra.com
About Swiggy
In August of 2014, Swiggy began operations by signing up a few restaurants in Koramangala, Bengaluru. Soon, the first team of Hunger Saviors came into action to deliver food within 40 minutes. Shortly after, Swiggy raised its first round of funding and launched its app in May of 2015. The technology that delivers great food right to homes was completely developed in-house. Today, Swiggy is the leading food ordering and delivery platform in India. Their innovative technology, large and nimble delivery service, and exceptional consumer focus enable a host of benefits that include fast deliveries, live order tracking, and no restrictions on order amount, all while having the pleasure of enjoying favorite meals anywhere.
About IIT
Indian Institute of Technology, Ropar is one of the eight new IITs set up by the Ministry of Human Resource Development (MHRD), Government of India, to expand the reach and enhance the quality of technical education in the country. This institute is committed to providing state-of-the-art technical education in a variety of fields and also for facilitating transmission of knowledge in keeping with the latest developments in pedagogy. These two areas of focus will enable students to gain exposure to recent trends in their chosen domains of study and gain practical experience through a wide variety of activities the institute facilitates in its own campus and arranges for in collaboration with industry and other institutes.
About BetterDrones
BetterDrones is a premier training institution developing an ecosystem for the drone industry. The organization undertakes drone operations in the field of data acquisition (including IR and thermal), agriculture, mining, surveying, monitoring, and inspection. BetterDrones trains and certifies cadets as drone pilots and engineers by providing hands-on practice and experiences on live operational projects. Their curriculum is progressive and designed to prepare individuals for licensing with pre, progressive and final tests, and relevant soft skills for all roles. Its syllabus and conduct include best practices of the Indian Air Force and Army Aviation.