ANRA Technologies Powers Majority of all Approved BVLOS Drone Flights in India
ANRA Technologies, a leader in integrated airspace management, mission management and delivery systems for uncrewed aircraft, wrapped up the drone pilot project in August 2021 while conducting Beyond Visual Line of Sight (BVLOS) drone delivery operations in India. ANRA led their consortia in support of a project awarded by the Directorate General of Aviation (DGCA), and Ministry of Civil Aviation (MoCA).  
ANRA and Swiggy made history by launching the first end-to-end BVLOS drone delivery trials as part of this project on June 16, 2021. Months of planning, risk assessments, air traffic control integration, training, equipment preparation, and coordination culminated with ANRA's flight team launching its first sortie. For the next several weeks, the flight team conducted BVLOS food and medical package deliveries in the Etah and Rupnagar districts using ANRA ANRA technology.  
ANRA Technologies powered two of the only three consortiums that obtained required government approvals and successfully completed the project mandated 100 flight hours. ANRA led the first consortium with partners including Swiggy, IIT Ropar and Better Drones, while the second consortium was led by Dhaksha Unmanned Systems, which included Honeywell and ANRA Technologies and focussed on disaster management. The goal of these flights was to collect data and lessons learned to inform the Indian regulatory process as government stakeholders prepare the next set of rules for BVLOS drone operations. This BVLOS project within India seeks to fast-track its policies and prepare the local industry for a significant global push into the drone services segment.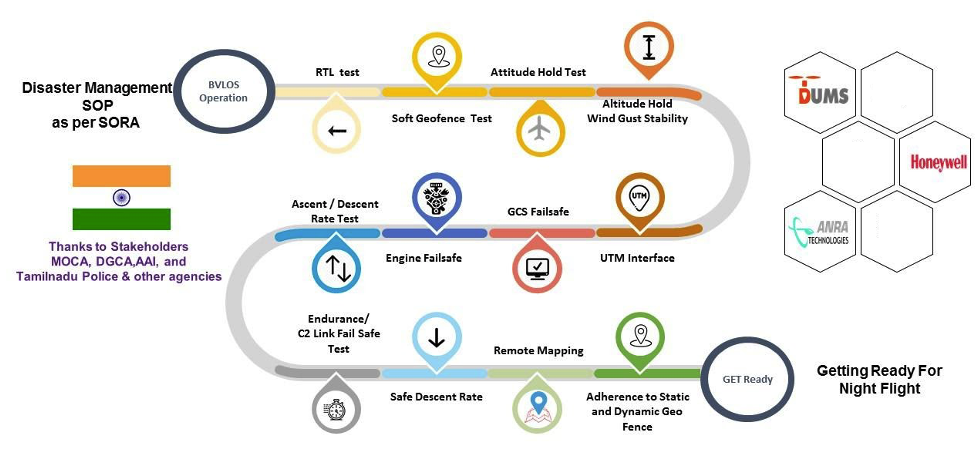 ANRA is honored to have been able to contribute and be a key driver for these experiments along with our partners.  This experience, along with a recently closed multi-million dollar funding round led by a consortium of global investors, will further accelerate the development and continued expansion of its software portfolio and grow its international team.