Drones: Emerging Uses in a Changing National Airspace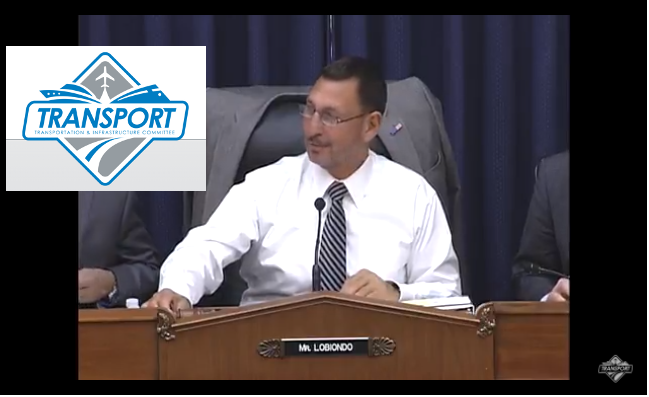 Today it was the day for the Hearing on "Unmanned Aircraft Systems: Emerging Uses in a Changing National Airspace" in DC. We felt it appropriate to share the opening statements by Shuster and LoBiondo
Chairman Bill Shuster (R-PA)
Committee on Transportation and Infrastructure
The United States is the world leader in aviation. We are also the world leader in innovation, and one sector I want to see thrive is the use of unmanned aerial systems. UAS are the latest intersection of aviation and innovation and I am excited to see where this industry goes from here.
UAS have emerged as a strong growth sector in the aviation industry and are providing good-paying jobs here in the United States.
As their numbers grow, more and more promising applications for UAS are being realized and planned. UAS have a variety of uses, ranging from assisting farmers survey crops and croplands to visual inspections of aircraft, roads, railroads, pipelines, and bridges.
During the historic hurricane season we had this year, UAS played an important role in relief and recovery efforts. UAS were used as airborne cell phone towers to ensure continued phone service and Wi-Fi internet access after these natural disasters. Without this technology, many survivors of the hurricanes would have been cut off from their families. UAS were used to survey damage from the storms, allowing for faster recovery efforts.
UAS now are being used for the routine inspection of infrastructure, a function that cannot necessarily be matched by manned aircraft and is often dangerous for people.
We are seeing industry and government work closely together toward the common goal of UAS integration and keeping the United States ahead of the rest of the world in the development and integration of this new aviation technology. Collaboration will help spur job creation and research here in the United States rather than overseas.
I look forward to hearing from today's witnesses about the current state of UAS in our National Airspace, emerging uses of UAS that are being developed, and what we in Congress can do to address policy issues related to the use and integration of UAS.
Chairman Frank LoBiondo (R-NJ)
Subcommittee on Aviation
Today the Aviation Subcommittee is holding its first hearing in the 115th Congress solely dedicated to the topic of unmanned aircraft systems or "UAS." This hearing will consider technological, legal, and policy issues related to UAS. For new Members of the Committee, it will provide an overview of this important topic. For returning Members, this hearing will be an update on the issues.
UAS or "drones" are a game-changing technology. While drones have been in existence for decades, they are now creating new industries and transforming others, such as agriculture.
The sheer volume of UAS now operating in the National Airspace System—about two million have been sold in the United States to date—and their unique features are causing policy-makers and operators to rethink all aspects of airspace use.
Until recently, we thought of "aircraft" as mainly flying miles above us carrying people and cargo between airports with runways. UAS, on the other hand, can take off and land literally anywhere. They fly a few hundred feet above the ground and easily operate around buildings, factories, utility lines, and farm fields.
The possibilities are exciting: our power companies can evaluate damage quickly after a storm while keeping people out of harm's way. Farmers can more efficiently assess their crops. All kinds of equipment and buildings can be inspected faster and safer than ever before. Drones are changing the way first responders conduct search and rescue operations and how they monitor disasters and recovery activities.
In other countries, companies are beginning to use drones to deliver goods either directly or in combination with delivery vans. For example, Mercedes Benz is using drones in Switzerland to deliver items such as ground coffee and cell phones in Switzerland on a trial basis.
These examples make clear how important it is to maintain American leadership in aviation. We cannot rest on our laurels; the benefits of technological advancement and the costs of complacency are too great. As such we must continue to diligently move forward with UAS integration.
But, like with anything else, there are risks of which we must be mindful, as we learned earlier this year. In September over New York, a U.S. Army helicopter collided with an illegally operated drone causing hundreds of thousands of dollars of damage to that aircraft. In Canada not long after, a drone struck an airliner as it prepared to land. We were lucky. No one was hurt or killed in those incidents. But we cannot count on luck to keep us safe the next time around.
Yesterday, the FAA made public the results of research on collisions between UAS and manned aircraft. So far, the research shows that UAS can cause more severe damage to an airplane than a comparably-sized bird. That is concerning. We will monitor the future of this research closely as they investigate the risks of ingestion of UAS into jet engines
These incidents, the numerous sightings of drones, and research reveal that a lot of work remains to be done to achieve safe and successful integration of UAS.
The witnesses on our panel today represent those who are pushing the boundaries of aviation technology and innovation. Only hard work and close collaboration between the government, industry, aviation labor, and Congress will allow the safe integration of UAS into the National Airspace System.
I note that some of that hard work and collaborative effort are taking place at the FAA's Technical Center in my district. The Technical Center plays an important part in the partnership between government and industry.
I look forward to hearing from our panel today about how Congress can enable the continued integration of UAS while meeting the safety challenges as they arise.
Click here for additional information from today's hearing, including testimony, video, and background information.